Understanding Different Types of E-Bikes
If you're paying attention to the landscape of popular new bicycles these days, the explosion in types of ebikes is impossible to ignore. Just five years ago, ebikes were relatively rare and poorly understood. Now, there are more types of e-bikes than we ever could have imagined.
Whether you're considering a gravel ebike or a mountain ebike, it's important to understand the differences between them. It's also helpful to have a realistic appraisal of your needs, the types of riding you'll do, and the level of performance you want.
Let's take a look at different types of ebikes and dissect which is best for various uses.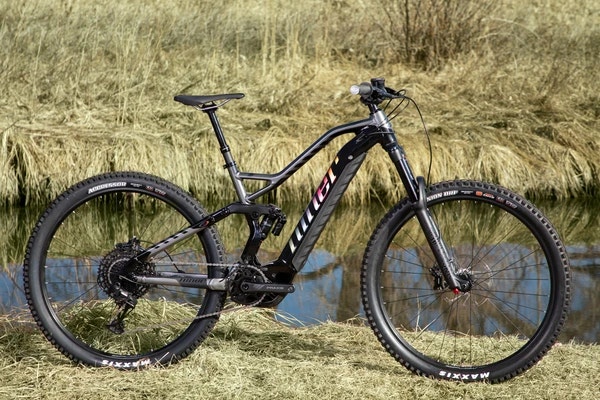 Mountain ebikes
By far, mountain e-bikes are the most popular category right now. These progressive machines were once questioned by seasoned riders, but they are now experiencing tremendous popularity. Novice riders appreciate the power assist as they learn more about mountain biking, and specifically, learning to master the nuances of riding uphill. Older and more experienced riders who want to crank out more laps and more vertical have learned that getting to the top of hills more than twice as fast means twice as much descending!
A mountain ebike is just like a classic mountain bike, but with a battery and drive system built into the frame. The riding position, gear shifting, frame geometry, wheel and tire sizes, and suspension systems on a mountain ebike all function identically to their acoustic counterparts. The ebike will weigh about 20lbs more and it will often be built with heavier duty parts, such as larger brakes and stouter wheels.
Reviewing choices in mountain ebikes, the primary consideration is how much suspension travel suits your needs. The choices boil down to: none, a little, or a lot. As a rider investing in a $5000 bicycle, you'll want a realistic analysis of where and how you'll be riding.
Three types of e-mountain bikes
Many options in rigid, or no suspension, mountain ebikes are available. They will be lighter, simpler, and more affordable than full-suspension ebikes. You might choose this option if your riding will be mostly commuting around town, touring smooth dirt roads, or if you're unlikely to tackle challenging, rough trails. Even without a suspension system, this type of mountain ebike can be highly functional and comfortable to ride, thanks to the upright riding position, sturdy frame, knobby tires, and wide range gearing.
However, the overwhelming majority of mountain ebikes are full-suspension. Yes, the suspension system adds some weight and complexity, but the addition of an ebike drive system negates any downside. And with the added torque and climbing power of an ebike, the full-suspension system is even more important for maintaining traction and grip on the trail surface.
A short- or mid-travel full-suspension e-bike might have anywhere from 100 to 150mm of suspension travel. And this is the sweet spot for most riders. With enough suspension travel and the right frame geometry to comfortably tackle nearly any trail, this category of mountain ebike is the most popular choice. It's not unwieldy on tight, twisty trails, but there's plenty of suspension for most downhills. The RIP e9 is our most popular e-mountain bike for just this reason.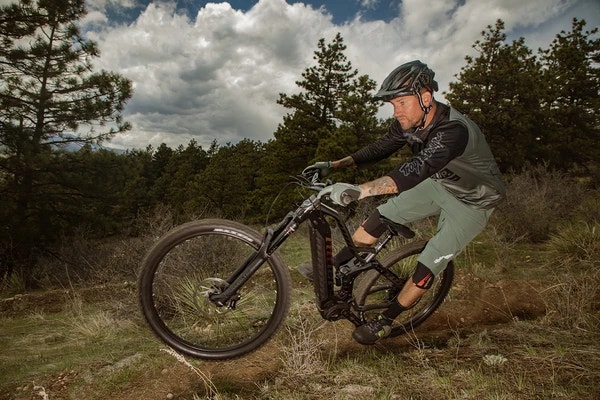 Longer-travel full-suspension ebikes are popular as well. With 160-180mm or more suspension travel, these are frequently known as enduro ebikes. They could easily be used on a downhill or enduro track, yet the drive system allows riders to comfortably pedal uphill in situations that would normally require a chairlift or shuttle truck. With the power assist at hand, many aggressive mountain bikers feel that there's no reason not to choose this type of bike. Any loss of pedaling efficiency due to the longer suspension travel is easily overcome by the drive system. Our WFO e9 is a good example of this.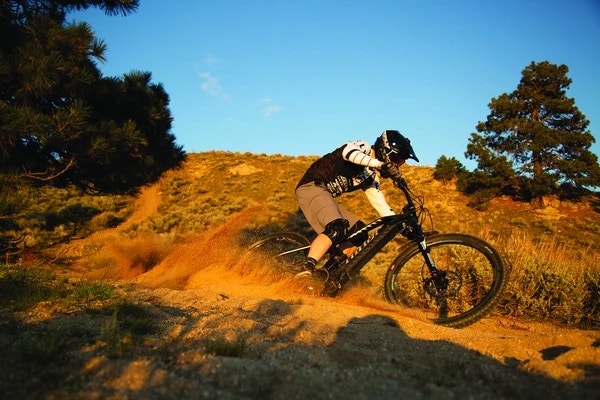 No matter what type of mountain ebike you choose, definitely confirm that it's fitted with hydraulic disc brakes and good tires. Braking power is paramount, thanks to the faster speeds and heavier weight of the bike. And hydraulic disc brakes are the best you can get. For those same reasons, good tires are critical. Not only is traction on the trail critically important, the faster speed and heavier weight of an ebike can cause punctures on low-quality tires. Do yourself a favor and do it right, up front!
Gravel ebikes
For riders who simply want to cover a lot of distance on smoother dirt roads, or rip around on rougher, mixed surface roads in urban areas, a gravel ebike could be just the ticket. Gravel bikes are basically just road bikes with sturdy frames, stable geometry, and tires suited for light off-road duty. Add a battery and drive system, and you've got a gravel ebike.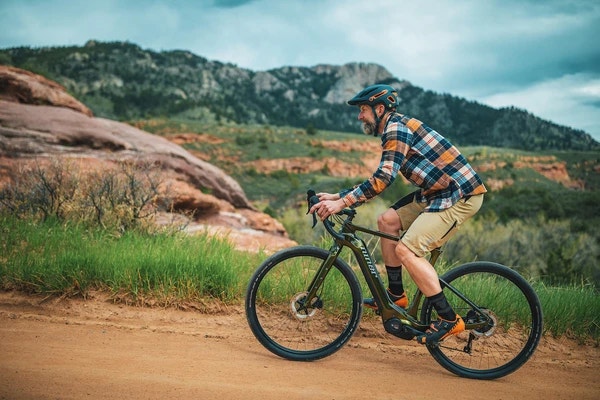 There are two basic styles of gravel ebike. On one end of the spectrum are lighter weight, lower power, shorter range bikes. For traditional riders who don't need or want much power assist, this is the best choice. The bikes look almost like normal bikes and they are lighter weight.
On the other hand, riders who want more pedal assist power and longer range should go for a more robust system with a stronger motor and a bigger battery. These bikes often go faster and farther and are built to manage the higher speeds. Our RLT e9 RDO falls into this category. Look for stout tires, strong brakes, and a sturdy frame.
Ebikes for everyone!
No matter your preference, ebikes can expand the range of opportunities to ride. Whether it's a newly feasible commute or after work mountain bike ride, or a return to the sport after long absence, there are plenty of reasons to try an ebike. The options are endless and the quality of the experience is higher than ever.