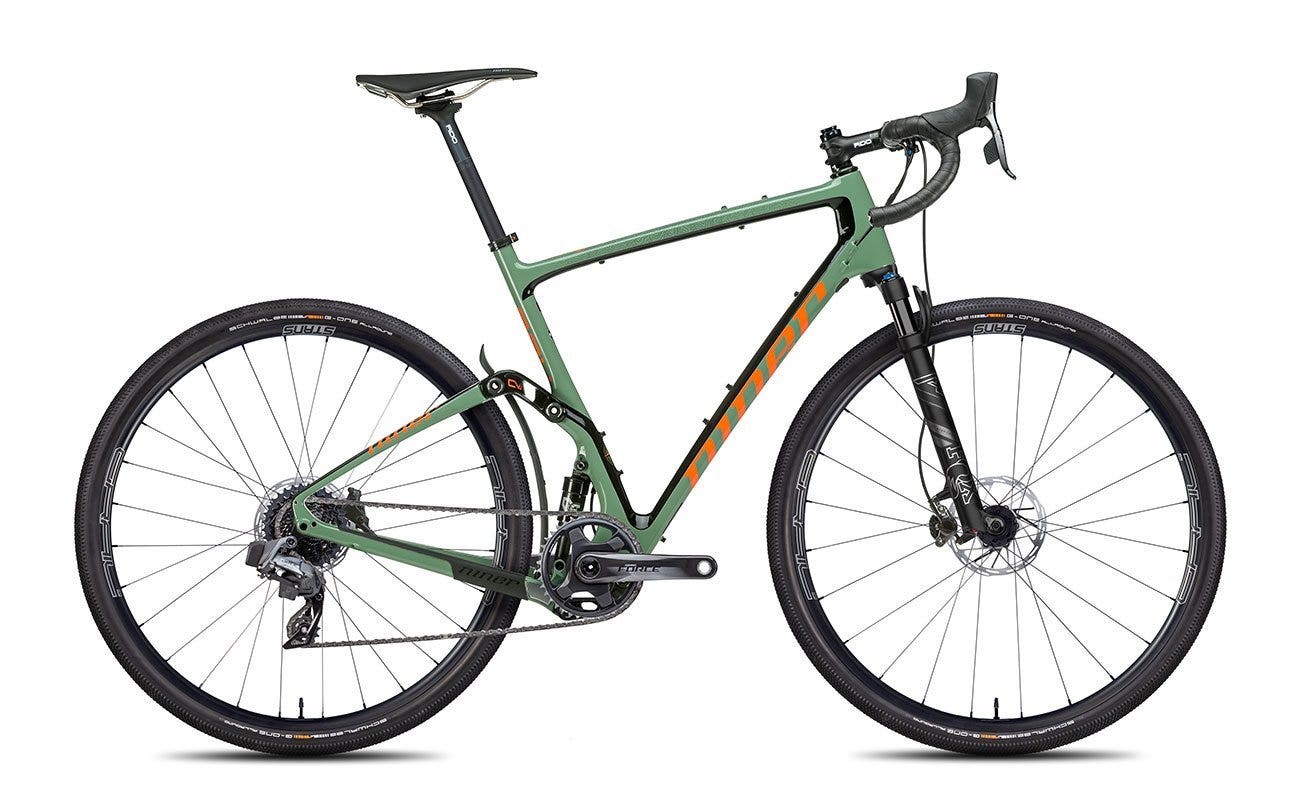 MCR 9 RDO
The Magic Carpet Ride - available now!
Ride faster, go farther, stay longer
50mm of CVA suspension gives you confidence, comfort, and control on off-road excursions.
By adding our CVA full suspension to a dedicated gravel bike platform, we're blending the confidence and control of a cross-country race bike with the efficiency, fit, and responsive handling of a gravel bike. The result is a drop bar bike with superior comfort, power delivery, and pure, unadulterated fun.
The suspension question: asked and answered
Why forge the first drop-bar full-suspension bike? Because Niner Bikes was founded in 2005 with a simple goal. Making riding on dirt a better experience, period. We've been pioneers in off road technology. First, it was the 29er wheel size. In 2008, it was our Constantly Varying Arc full suspension design. In 2013, it was the first RLT gravel bikes, purpose built for the demands of long days pedaling on rough surfaces.
Fourteen years later, the MCR 9 RDO is a natural extension of our original effort. When you ride one, you'll see. More comfort, more confidence, more control, and more fun and freedom. By adapting high performance suspension for gravel, we believe the MCR 9 will allow gravel riders to pedal comfortably, powerfully, with more control and confidence over once-unthinkable surfaces. We're proud to be the pioneers bringing full suspension to gravel bikes.
Gravel-tuned CVA suspension
At the heart of the MCR is Niner's patented, proven, Constantly Varying Arc (CVA) suspension system. It debuted in 2008 and has been incrementally refined ever since. But the fundamentals have not changed: CVA is stable yet supple while climbing and pedaling; sensitive and supportive going downhill; consistent and controlled in every situation.
For the MCR 9 RDO, we changed the suspension curve to emphasize performance for a seated, pedaling rider. It's tuned to be especially sensitive to high frequency, low amplitude bumps, and more linear with less end-stroke progression. Configured as a short-travel system, we want riders to easily achieve full travel with less emphasis on big hits and bottom out resistance like you'd find on our mountain bikes.
In the MCR 9 RDO, we made the most sophisticated, tunable suspension system possible, with minimum unsprung weight. By suspending as much of the bike and rider mass as possible, we achieve the most sensitive, compliant ride possible. For the suspension to be effective for riders who are seated and pushing on the pedals, this was a critical piece of the full suspension puzzle to nail down.
Air springs are infinitely tunable to suit a wide range of riders and their gear. And oil damping is essential, both for controlling compression energy inputs from the rider and for dissipating rebound energy as the suspension recovers from bumps of all sizes. Find a suspension set up guide here.
Control and comfort, for confidence like no other
The MCR 9 is more than a gravel bike. It doesn't skitter and skate through corners. It doesn't buck you out of the saddle when you pedal through washboards, ruts, and cobblestoned stream crossings. And descending rough roads at speed is not a white-knuckle fear fest.
Why? Because it doesn't rely simply on tire pressure and undamped frame flex for suspension. Thanks to suspension, the MCR 9 encourages sitting deep in the saddle and pedaling powerfully through chop. It hugs the ground and tracks corners like a slot car. It's planted and confident on high speed descents. It leaves you fresher, with more energy and less wasted effort, by isolating you from intrusive bump inputs.
f light weight, endless uphills, and ruthless efficiency is your thing, our RLT 9 gravel bike series is your jam. If steep, rough descents and straight up singletrack figures prominently in your plans, consider the RKT 9 RDO mountain bike.
But if you want an entirely new outlook on gravel,one that marries the confidence and comfort of a mountain bike with the efficiency and fit of a gravel bike, hop on this Magic Carpet for the ride of your life.
Nine things you need to know
50mm of stable yet supple CVA suspension with a refined curve for small bump performance and full travel.
Rear shock lockout with handlebar remote; fork lockout.
RDO carbon fiber main frame and rear triangle with forged, 1-piece linkages.
Integrated rear fender protects suspension components.
11 fixed mounting points for frame bags, bottles, and more.
Removable front derailleur mount, for 2x and 1x chainring options.
Durable, long-lasting Enduro Max "Black Oxide" pivot bearings.
Clearance for 700x50c and 650b x 2.0 tires.
End-to-end, Full Sleeve internal cable guides including
dropper post routing and integrated frame protection.
Room to roam
Niner gravel bikes have room to fit 700x50c tires (or 650b x 2.0).
Integrated frame mounts
you'll be hard-pressed to run out of room for all your gear. Multiple threaded mounts to fit custom bags, bottles, racks, fenders, lights, and more.
Interchangeable wheel size
Niner gravel bikes are designed to fit both 700c and 650b wheels, for ultimate versatility and adaptability to suit any adventure.
Gravel-tuned CVA suspension
Supple yet stable, and tuned for gravel. Our patented, proven Constantly Varying Arc system is adapted for the specific demands of gravel.
Lifetime Warranty
We have you covered with warranty service, small parts, and a support team that actually answers the phone. So go ahead, search out a gravel road you've always wanted to explore.
Integrated fender
Cut the crud with the integrated frame fender. An optional bolt-on extension is available for even more coverage.
"Thanks to its ability to maintain contact with the ground no matter the imperfections, the MCR was the most confidence inspiring drop bar bike I've ridden on dirt roads."
"It lives up to the hype. I was able to comfortably and safely ride stuff I'd otherwise have no business tackling on a gravel bike. But I could also cruise along on the pavement and dirt roads."
"The CVA suspension has been tuned specially for gravel terrain by focusing on absorbing high-frequency, low-amplitude impacts encountered on rocky and rutted roads."
MCR 9 RDO 5-STAR SRAM FORCE AXS 1x LTD Specifications
SRAM wireless AXS shifting forms the foundation of our 5-Star SRAM Force 1 AXS LTD build kit. With a single-chainring drivetrain, Stan's CB7 carbon wheels, Schwalbe tires, and Easton carbon handlebar, the miles will roll on and on.
SRAM Force 1 AXS wireless electronic shifting
Stan's NoTubes Grail CB7 carbon wheels
Easton carbon handlebar
| | | | |
| --- | --- | --- | --- |
| Available frame sizes | 53CM, 56CM, 59CM | Available colors | OLIVE GREEN/BLACK/ORANGE OR BLACK/MAGNETIC GREY |
| Frame | NINER RDO CARBON FIBER: 50MM CVA SUSPENSION; FORGED ALLOY LINKS; ENDURO MAX PIVOT BEARINGS; INTERNAL CABLE ROUTING; INTEGRATED FENDER; BOTTLE, BAG, AND RACK MOUNTS; FLAT MOUNT; 12X142 THRU AXLE | Fork | FOX 32 SC FLOAT AX PERFORMANCE ELITE EVOL FIT4, 40MM, 100X15MM, 44MM OFFSET |
| Shock | X-FUSION MICROLITE RL W/ REMOTE LOCKOUT | Tubes / Sealant | STANS NO TUBES SEALANT (2 X 2oz BOTTLES) |
| Front wheel | STANS NOTUBES GRAIL CB7, NEO ULTIMATE HUB CL 100X15MM FRONT | Rear wheel | STANS NOTUBES GRAIL CB7, NEO ULTIMATE HUB CL 142X12MM REAR |
| Front Tire | SCHWALBE G-ONE ALLROUND EVO SUPER TERRAIN, TLE, ADDIX SPEEDGRIP, 700 X 38 | Rear tire | SCHWALBE G-ONE ALLROUND EVO SUPER TERRAIN, TLE, ADDIX SPEEDGRIP, 700 X 38 |
| Brakes | SRAM FORCE HRD FM | Brake levers | SRAM FORCE ETAP AXS |
| Brake rotors | SRAM PACELINE 160/160MM CL ROTORS | Chain | SRAM FORCE 12SP |
| Front shifter | SRAM FORCE ETAP AXS | Rear shifter | SRAM FORCE ETAP AXS |
| Front derailleur | N/A | Rear derailleur | SRAM FORCE ETAP AXS |
| Cassette | SRAM XG 1270 12SP 10-36T | Crankset | SRAM FORCE DUB 38T |
| Bottom bracket | SRAM DUB PF30 | Saddle | NINER CUSTOM WITH CRN-TI RAILS, EMBOSSED NINER GRAPHIC |
| Seatpost | NINER RDO CARBON, 400MM | Handlebar | EASTON EC70 AX |
| Stem | NINER RDO CARBON | Headset | NINER INTEGRATED SHIS DESCRIPTION IS42/28.6|IS52/40 |
| Grips | NINER BAR TAPE | Approximate weight | 22.9 lbs |
We make every effort to publish accurate build specs, however Niner Bikes reserves the right to make substitutions or changes to bike assembly specification at any time without notice or warning. Product images may not reflect actual specification. Minor variance in color may be visible including fork decal color. Published approximate weights are for size medium (53cm) and may vary by +/- 15% due to manufacturing tolerances.
GEOMETRY CHART
TECHNICAL SPECIFICATIONS