Kirt Voreis's "RIPPLE 9 RDO" custom painted Niner 29er trail bike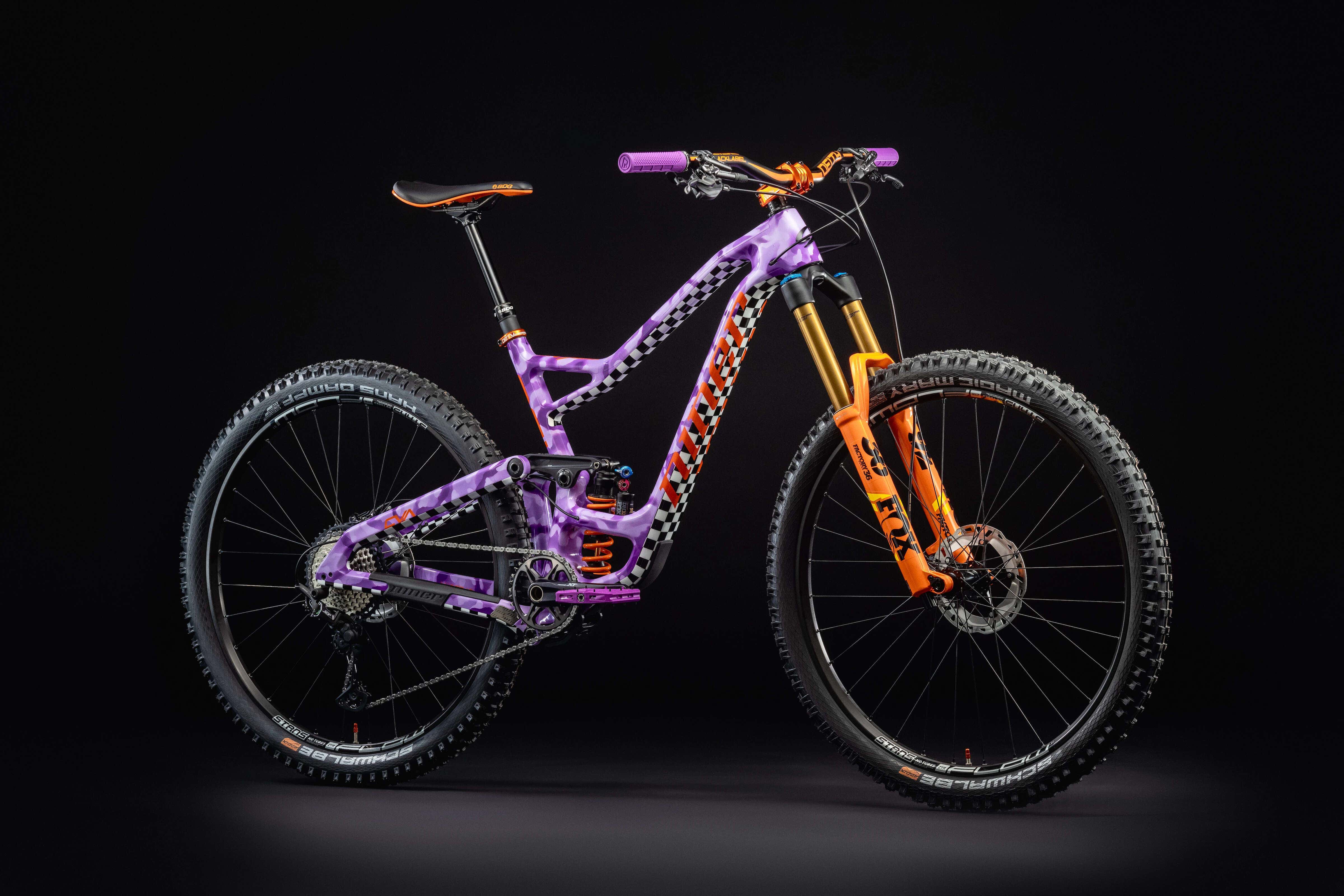 Every so often, we like to honor one of our dedicated athletes with a custom painted frame. Kirt Voreis has been riding Niner bikes since 2017 and he exemplifies the spirit of our brand. We don't take ourselves too seriously, we have fun, and we welcome riders of all style into the sport of mountain biking.
So when a raw carbon RIP 9 RDO 29er frame came along in need of fresh paint, we knew right away who needed first dibs with a box of crayons and watercolor set. Kirt gave our graphic designer Nate Adams some general direction and then stood back. This RIP is straight from the mind of our favorite mad genius jibber and rendered in paint by renowned Tony Bauman of Made Rad by Tony.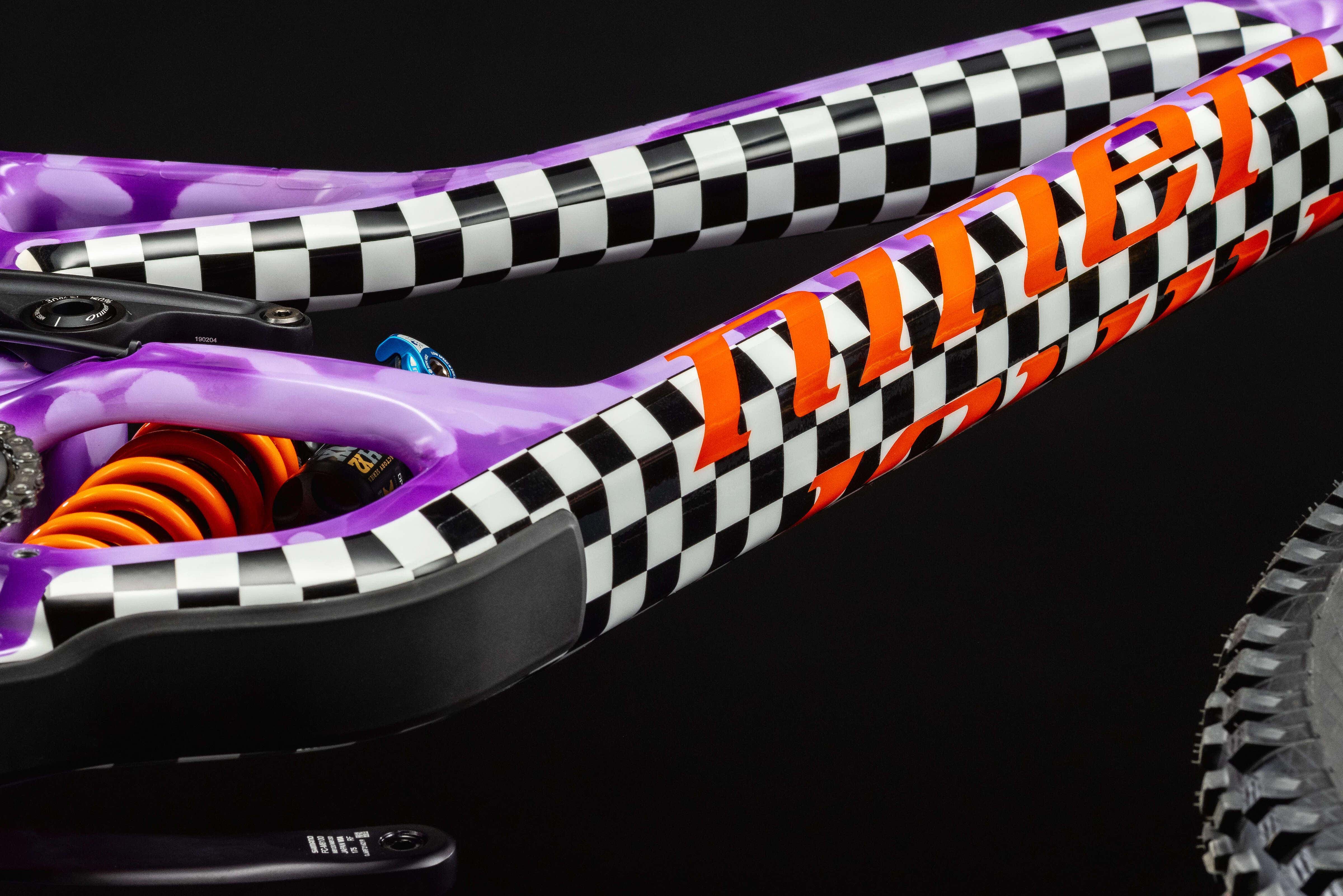 The bike features a splashy blend of purple camo and black and white checkerboard with orange Niner logos and decals. To say it's eye catching is an understatement!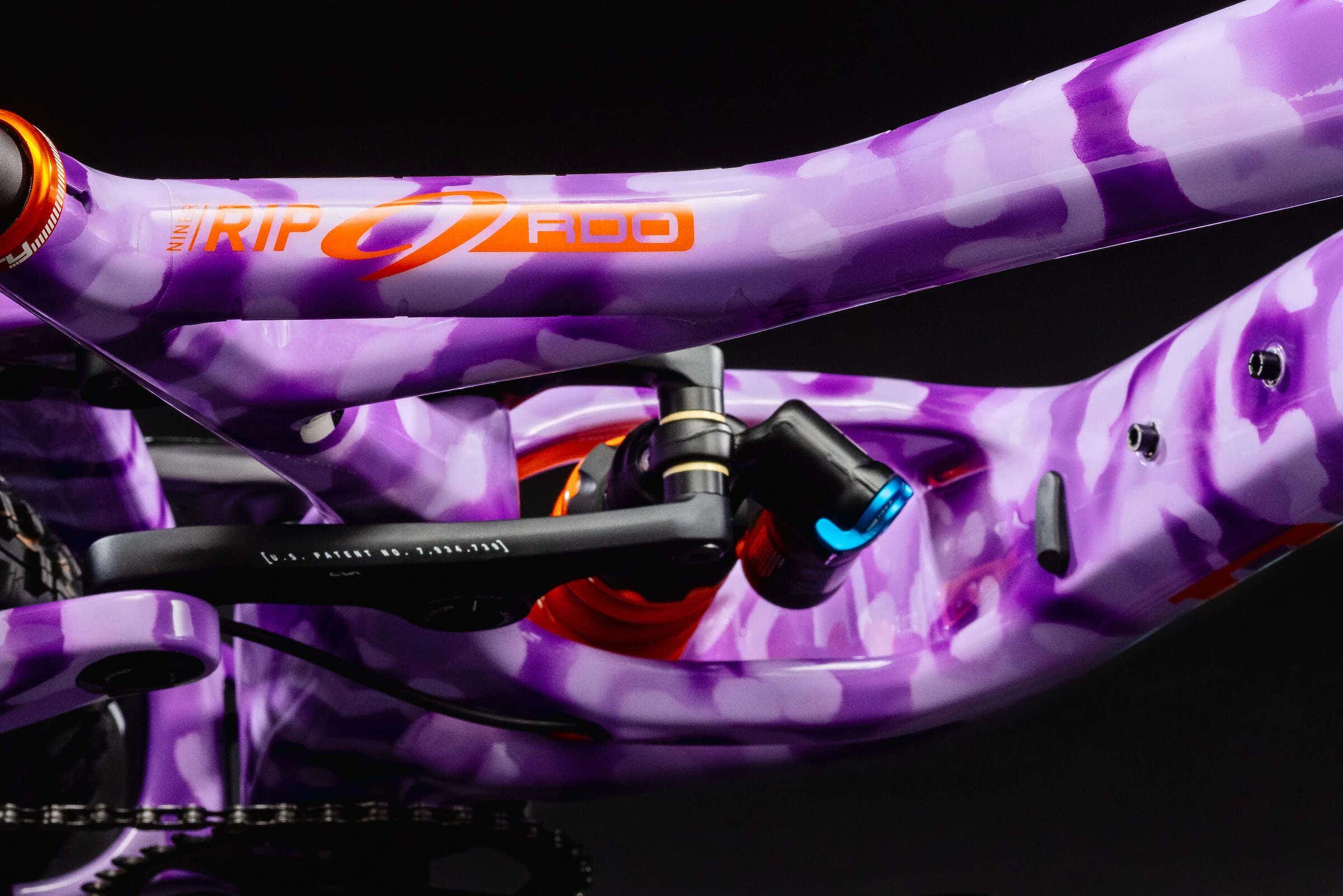 Here's what the man himself has to say about the project:
"Niner Bikes asked me what my paint vibe was feeling like at the moment for a new RIP and I replied Purple. Camo. Checkers. Orange. Please!! This color scheme comes from growing up in Fontana, California. Swap meets were huge back in the 70's and 80's all over So Cal. There was Hot Rod and Low Rider parts galore! Most parts had orange flames painted on them that would grab my attention in a big way so orange became a favorite color in my life."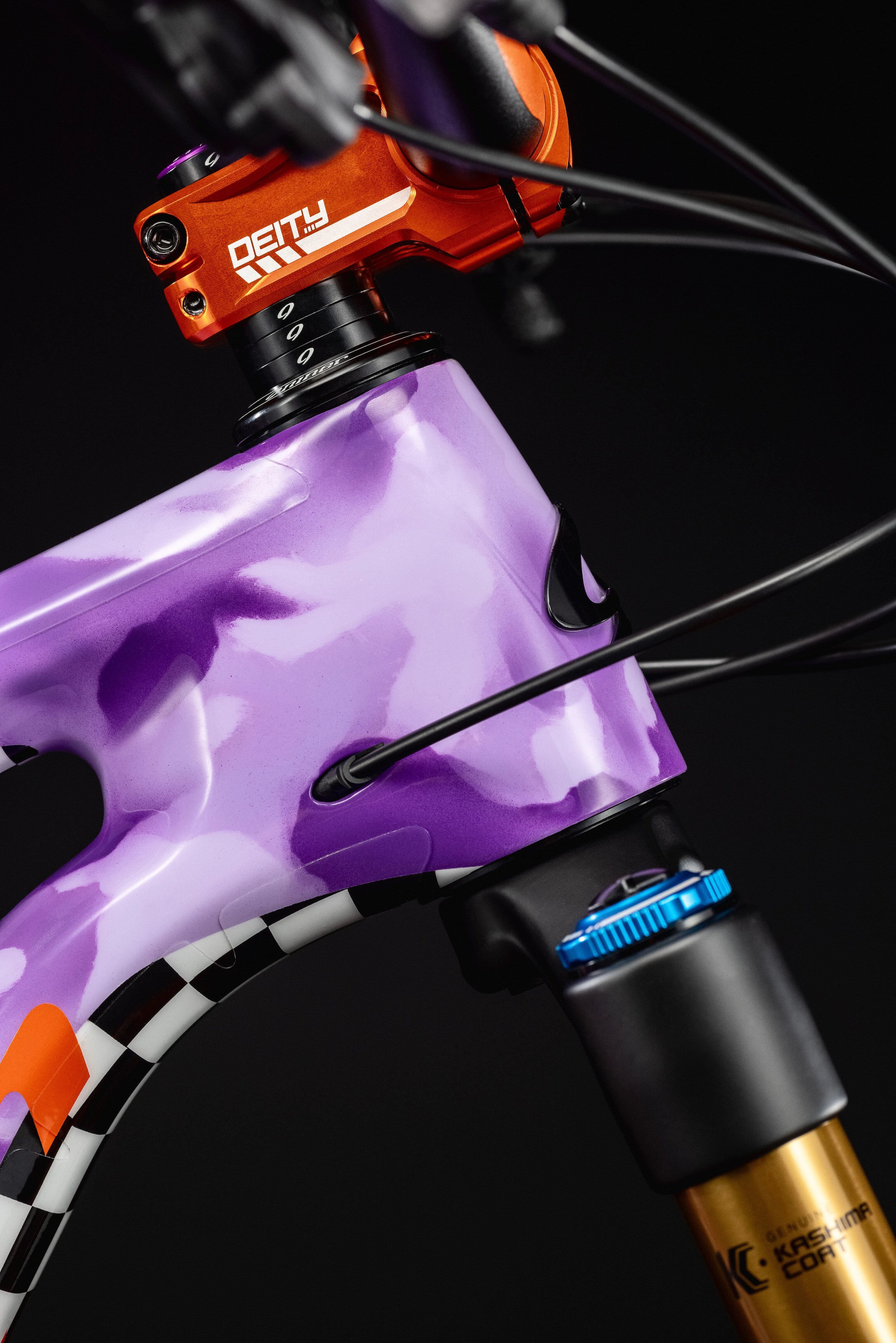 "I would also find the craziest clothing, mostly fake designer stuff, heat pressed logo t's and tons of military gear. This one military swapper had every color of camo pant. Blue, red, yellow, orange and grey, whatever colors you could think of. I remember seeing the purple ones and thinking how sick it was that hard core military gear could look goofy cool. Had me feeling like Bill Murray in the movie Stripes, goofy but cool fighting the rules, haha! I got home, cut the legs off, made shorts, put on my checkered vans and went out and raged the streets on my BMX and Skateboard. I shredded elbows and knee caps daily but those shorts took a beating! I had a couple pair over the years and still remember how invincibly ridiculous I felt when I wore those shorts!"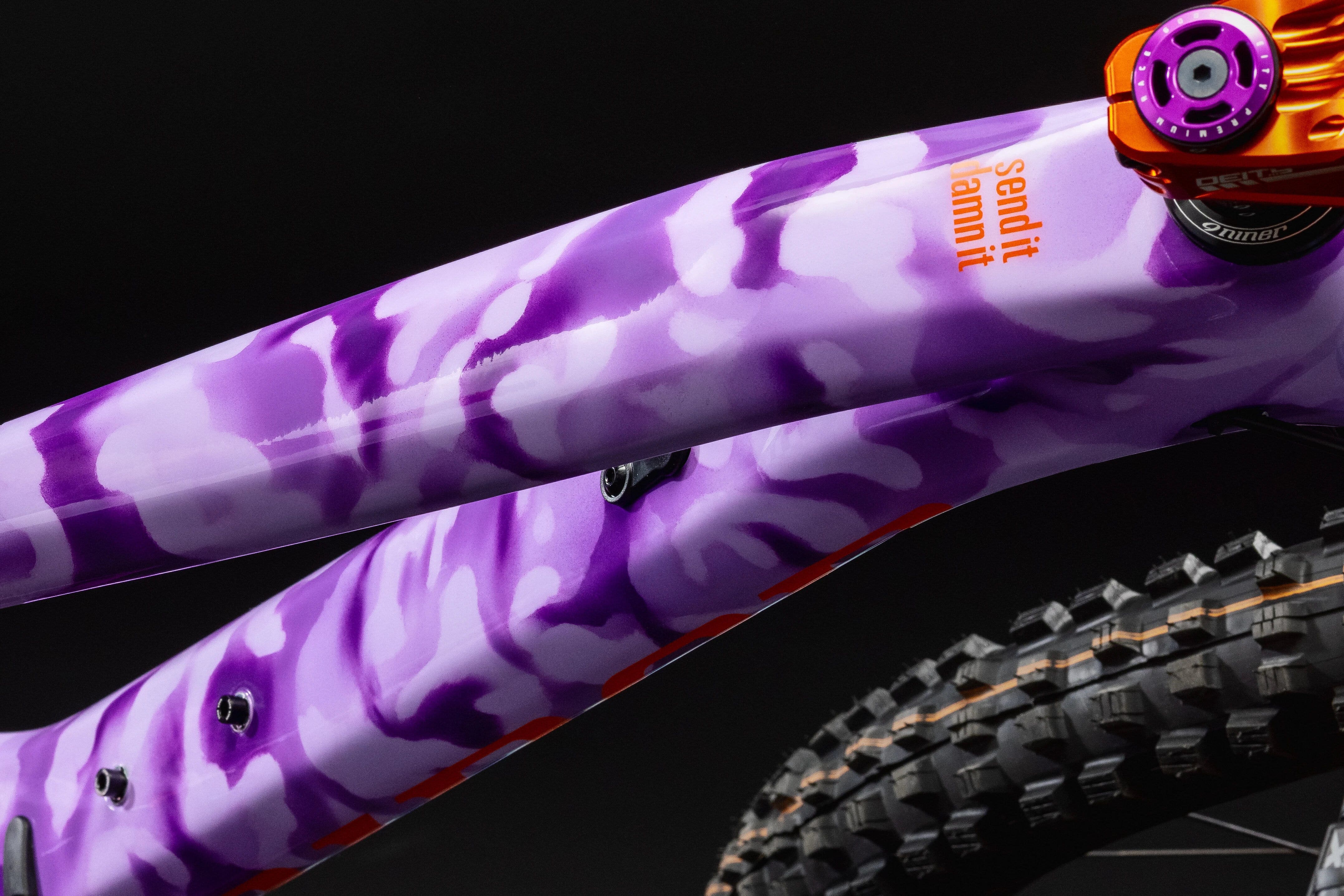 "Thanks to Niner Bikes and Tony Bauman @maderadbytony for the awesome paint job!! Check out my insta @kirtvoreis_allride for more bike fun!"
Here's a full list of the build parts that Kirt chose to dress this masterpiece.
Fork: Fox 36 Fork 160mm 90psi
Rear Shock: Fox DHX2 rear shock 475x2.50
Cassette: Shimano Deore XT drivetrain 34x 10x45
Brakes: Shimano Deore XT 180r 180f
Bar: Deity BlackLabel bar 780mm
Stem: Deity Copperhead stem 50mm
Grips: Deity Lock Jaw grips
Pedal: Deity Deft pedal
Seat-post: SDG Tellis dropper post
Saddle: SDG Bel-Air saddle
Wheels: Stans Flow MK3 29
Front Tire: Schwable Magic Mary front 29 2.6 38psi
Rear Tire: Schwable Hans Dampf rear 29 2.4 38psi